To celebrate Gigi's 10 years, a unique, limited edition piece is revealed, bringing us back to the magic of childhood...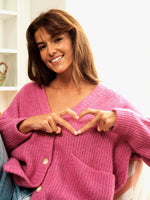 Memories of cotton candy, rainbow lollipops, and marshmallows, a sparkling daydream of all the colors of our childhood…
Gigi wanted to create a piece of jewelry that brings us back into this magic. Made with a kiss from a fairy...the Numéro 10. We want to keep it on forever!
Staying true to herself, Gigi has taken a twist on the 18 carat rose gold chain with touches of colorful resin.
A gradient of delicious, tones that pop, going from powdery pink to intense red, to be worn alone or with a collection of others.
The Numéro 10 marks the ten years of the brand with beauty!